About Carey Chiropractic
Focused, Effective Care Since 2002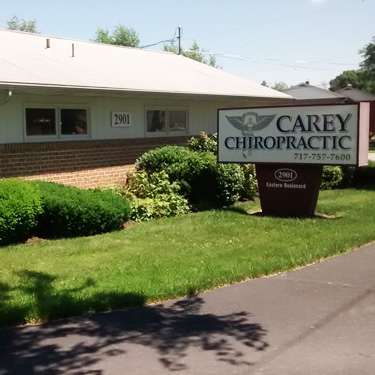 Established in 2002, Dr. Carey opened Carey Chiropractic with one goal in mind: To restore the health of families and patients of all ages naturally. In 2014, Dr. Good joined him in the practice. Together, the two continue to serve the York community through focused, effective and gentle spinal adjustments.
Getting Well and Staying Well
Dr. Carey and Dr. Good hope to help their patients get well and stay well for a lifetime. It's their passion to help patients better understand exactly how chiropractic care works, all while honoring their own health and wellness goals.
When you choose us for your care, we promise to treat you with respect and honesty as we believe in offering the focused care that your body needs, no more, no less.
Focused Techniques for All
We're proud to offer a variety of adjustment styles for our patients, including Diversified, Gonstead, SOT, Activator Method and more. Whether you're one or 100, there's something for you in our practice.
In addition, we're happy to provide other modalities including Applied Kinesiology, Nutritional Counseling, care with our roller-bed, and focused decompression treatments for those dealing with low back pain.
When you choose us for your care, you're getting more than just a look at your spine—you're getting a chance to express your true health from the inside out, naturally.
MEET OUR CHIROPRACTORS »
Get To Know Our Team
We'd love to invite you to make an appointment with our practice to learn more about how natural and focused care can help you and your family. To get started, contact us today to book your visit.
We happily accept most major insurance plans and offer convenient onsite parking.
---
About Carey Chiropractic | (717) 757-7600